About
The American Opportunity Index: A Corporate Scorecard of Worker Advancement is a new effort to give companies and other stakeholders a set of robust tools that measure how well major employers are doing in fostering economic mobility for workers and how they could do better. The Index is a joint project of the Burning Glass Institute, Harvard Business School's Project on Managing the Future of Work, and the Schultz Family Foundation.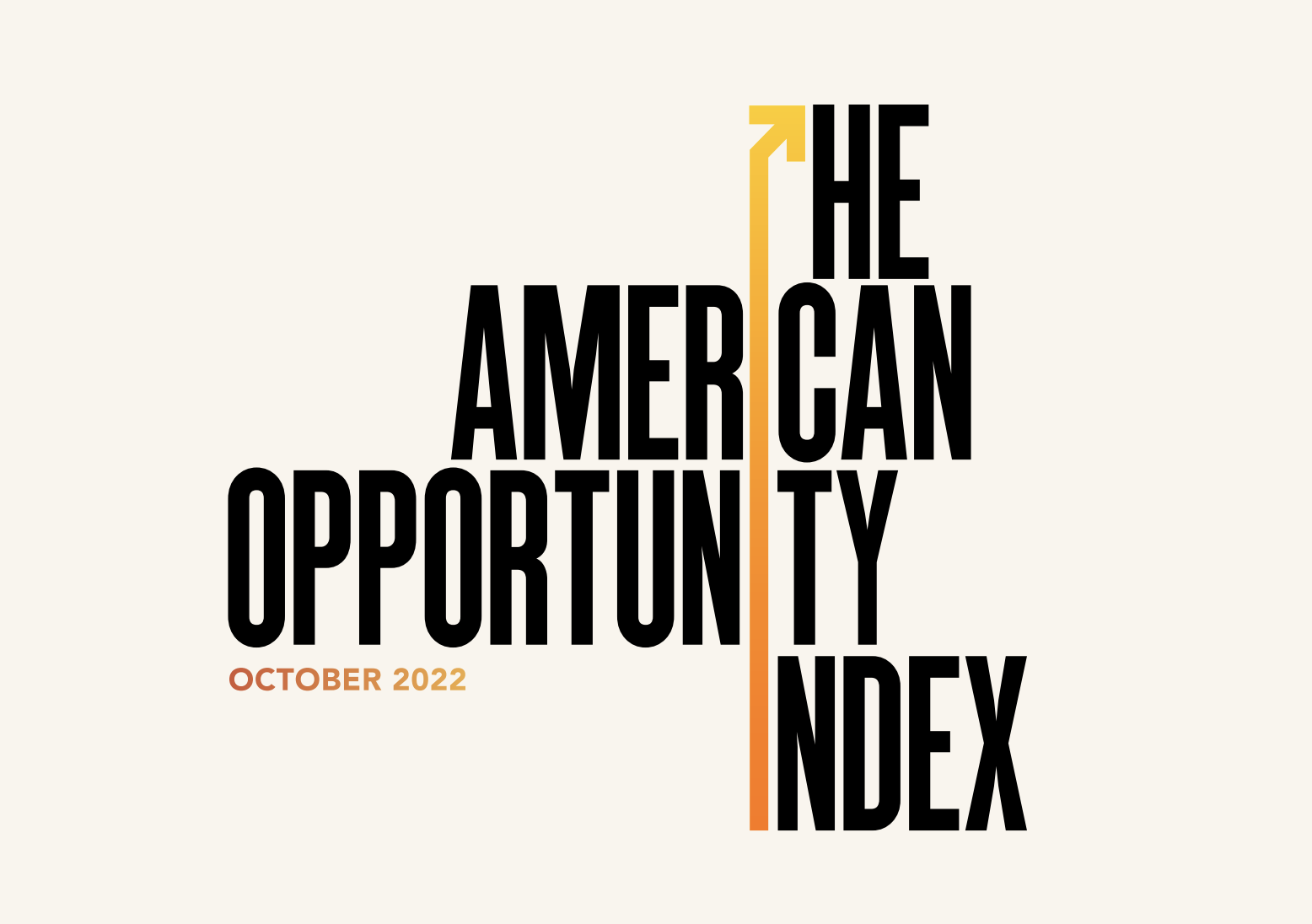 Authors:
Matt Sigelman (President, The Burning Glass Institute),
Joseph Fuller (Professor, Harvard Business School),
Nik Dawson (Economist, The Burning Glass Institute),
Gad Levanon (Chief Economist, The Burning Glass Institute)
Our methodology
What We Did
We analyzed the 250 largest U.S. public companies to create the American Opportunity Index, measuring each firm based upon the level of opportunity they afford their workers within the firm and even beyond it. The Index is unprecedented among company rankings in that it is the only one we know of that is focused on assessing worker outcomes, not policies and practice.
The Index focuses on three core dimensions of a firm's opportunity generation: the access they offer to opportunity, the pay they offer in low- and middle-skill roles, and the level of mobility experienced by their employees both within and beyond the firm. And unlike survey-based instruments, it uses massive data sets—big-data analysis of career histories, job postings, and salary sources—to describe the real-world experiences of millions of actual workers.
Using those measures, we rank the top 50 companies overall as well as all companies within a given sector. In addition to the overall ranking, we identify the top 50 companies across five models of opportunity creation. Each expresses a defined archetype by which companies drive the success and mobility of workers, accounting for the major differences in the business models and organizational structures across such a diverse group of companies in order to ensure the relevance of our findings.
Our goal is threefold: to empower workers to make better decisions as to what positions to seek and what firms to prioritize in their job searches; to recognize firms that are setting an example of how to create opportunity; and to arm executives and HR leaders alike with the data they need to take meaningful action to boost the competitiveness of their workforce.
The Opportunity Index aims to address the historical absence of high-quality benchmarks by which firms can objectively evaluate how well they are creating pathways of opportunity for their entry-level and front-line employees. Many claim to promote mobility, of course, but which companies are truly doing this well? What sorts of jobs offer the best chances for advancement? Within various sectors and overall, who is doing best—and worst? Which employees move up, and who stays stuck? The metrics that the Index considers are fundamental to retention, diversity, and the future readiness of the workforce. Surprisingly, few companies track such metrics today. Obviously, firms know whom they have promoted, but relatively few have done a detailed analysis of career development across their workforce. Moreover, even the firms that track such data seldom have access to detailed benchmarks by which to evaluate their performance. The capability to conduct this analysis simply hasn't existed before.
How We Did It
To create the American Opportunity Index, we studied the career histories and compensation experiences of 3 million employees at the 250 largest U.S. public companies, as well as the job requirements specified in more than 40 million unique online job postings per year from 2017-2021. This information came from the Lightcast database, augmented by approximately 20 million self-reported salary records as observed through the Glassdoor database.
The Index focuses on the experiences of workers in jobs in which 30 percent or more of workers lack a degree¹—think of jobs such as office manager or customer service representative, not jobs like data engineer or tax manager. We focus on such jobs because they are where overall worker mobility hangs in the balance. The majority of U.S. workers don't have four-year degrees; their upward mobility hinges far more on corporate practice than on academic attainment. The Index tracks these workers over the course of five years, from 2017 to 2021. The robustness of the underlying data sets at representing those workers provides sufficient basis for evaluation for the vast majority of the top 250 companies. However, we have omitted eight companies for which we lacked the data to develop a meaningful, statistically valid score.
We have been careful to compare similar occupations across companies and industries to account for quite different organizational structures. We don't compare restaurant servers to factory line production workers. Instead, customer service agents at Amazon are compared to customer service workers at American Airlines, thereby controlling for the two companies' quite distinct workforces. Similarly, each firm's overall score is weighted to take into account variations in headcount for different occupations within the company.
While professional roles are heavily represented online, the Lightcast database also includes millions of records for low- and middle-skill workers. For example, it includes career histories for nearly 70,000 warehouse and operations workers at Amazon and 250,000 retail workers at Walmart. Of course, online career histories are self-reported, but our analysis also suggests that any inaccuracies are shared across firms. There is no reason to believe that Apple's employees are any more likely to misrepresent career progress than their counterparts at Microsoft.
We are certainly aware that this is a complex exercise involving multiple hard-to-account-for variables—what economists call externalities. Even the extensive data-driven analysis used to create the Opportunity Index cannot account for every influence on the range and quality of labor market opportunities. Geography may limit workers' job choices, for example. Very short stints may go underreported on résumés and in online career profiles. Companies select for personal characteristics, such as drive or grit, that may disproportionately affect their employees' outcomes. Pursuit of additional education or skill development outside of the workplace is not measured here. On the employer side, certain occupations characterized by high turnover are not as well represented, and companies that rely extensively on contract employees may rank higher than they otherwise might if these contractors were considered employees. We present our methodology with humility, aware of certain limitations yet certain that the core strengths of the analysis will make it useful to employees and business leaders.
Overall ranking
To generate each firm's overall standing, we assessed nine aspects of how firms can create opportunity for their workers. The American Opportunity Index then ranks companies based on their performance across these aspects by quintiles rather than by the false precision of an ordinal list, which would be subject to gaming and unhealthy granular competition in the future. Each firm's quintile score on each metric represents the weighted average of its score for each occupation group at the firm, weighted based on the distribution of job posting demand for each occupation as observed through the Lightcast job postings database. For example, if 60 percent of a firm's job openings are for retail workers and the firm's retail workers fare in the top quintile across each metric relative to retail workers at other companies, 60 percent of the firm's total score would reflect highest-quintile performance.
Then we created a composite of each company's quintile rankings to arrive at a final ranking, weighting each factor according to two distinct sets of inputs: first, the average weighting proposed by 12 leading experts (including academic economists, former high-ranking officials, former chief human resource officers, a senior executive with an industry association, and the CEOs of two major NGOs and a leading work-tech company, among others); and, second, a survey of 500 workers at major companies.² Each expert was asked to assign a specific percentage weight to each metric. We then averaged the weights proposed by each expert. Similarly, we asked the workers a series of questions, including a battery of forced rankings, that allowed us to deduce a weighting. We then averaged the weightings from both groups.
These are the nine measures used, grouped within the three core dimensions of opportunity generation we assessed:
Access:
Entry-level hires: The fraction of employees hired in a given time period who were entry-level as opposed to experienced, as observed through our analysis of the Lightcast career history database.
Barriers to work: A measure of the extent to which the firm, relative to others, hires workers for any given role who have a bachelor's degree, as observed through our analysis of the Lightcast career history database. Degree-based hiring can limit opportunity for the two-thirds of Americans who lack a four-year college degree.
Pay:
Wages: The median wage for each of the occupations we studied, as reported in Glassdoor's salary survey.
Mobility:
Job level: Number of promotions a typical worker in any given occupation received over the five-year period examined, as observed through our analysis of the Lightcast career history database. A promotion is defined as moving from one role to a different, better-paying position.
Velocity of growth: The average time it takes an employee in any given occupation to move up one level within the company—from sales representative to sales manager, for example, or from the IT help desk to network administrator, as observed through our analysis of the career history database.
Promoting up: The frequency with which a company fills open roles in any given occupation by promoting an employee from another lower-paying occupation within the company, as observed through our analysis of the career history database.
Promoting out: The percentage of employees in each occupation who receive a promotion after leaving the company, as observed through our analysis of the career history database.
Retention: The percentage of a firm's workforce in any given occupation still with the same company after five years, as observed through our analysis of the career history database.
Homegrown leadership: Percentage of senior management (director and above) who were promoted from within the company, as observed through our analysis of the career history.
Five central models of opportunity creation
The five models we created were designed to distinguish and measure different drivers of opportunity creation. Each of the five models includes two or more of the nine measures discussed above, with the ranking representing the straight average of the corresponding measures. With one exception, the measures selected for each model bridge across the core dimensions of opportunity evaluated by this study: access, mobility, and pay.
The following descriptions explain each model and its components:
Career growth: A key way that companies can create opportunity is to be willing to hire workers with limited education or skills, and then enabling their growth and advancement within a company. This archetype recognizes the companies that open their doors the widest to those without experience and then offers them quick pathways for advancement within the firm. Combines the entry-level hires, velocity of growth, and job level measures.
Career launchpad: Many companies have a pyramid business model—a large number of entry-level employees and fewer mid- or senior-level positions. These companies can best generate opportunity when they invest in developing skills that have currency in the marketplace, thus enabling their workers who leave to get a better job. This category recognizes firms that have the best track record of hiring workers without experience, training them, and preparing them to move on to higher-level positions elsewhere. Combines the entry-level hires and promoting out measures.
Career stability: At some companies, because of their business model or the specialized skills required for almost all roles, it is difficult to move up, yet employee morale is high and employees are unlikely to leave. For these companies, opportunity is created through the consistency and rewarding nature of the work. Career Stability recognizes firms that are most likely to offer good, well-paying jobs without significant churn. Combines the retention and wages measures.
Advancement without a degree: There is a growing movement to remove college degrees from job requirements where they are not necessary. While laudable, opportunity is only created by the companies that then enable those workers to advance internally. This category recognizes those firms that are most likely to welcome employees without college degrees and to move them up the ladder. Combines the barriers to work and promoting up measures.
Growing talent: There are companies for which opportunity creation is simply at the core of their overall talent management strategy. These companies look from within their company first and foremost when they fill open positions at any level; most of their managers and executives similarly hail from within their ranks. This category recognizes firms that are most likely to fill roles by promoting from within and whose leaders are most likely to have risen from within. Combines the promoting up and homegrown leadership measures.
For a more detailed description of the methodology implemented to construct the American Opportunity Index, click
here
.
¹Based on nationwide figures from the U.S. Bureau of Labor Statistics
Occupational Employment & Wage Survey, 2018-19.
²The final weighting took the average of the weightings proposed by each expert and the weighting computed based on the results of the worker survey. Each factor was weighted as follows: entry-level hires: 9.1%; barriers to work: 11.9%; wages: 15.7%; job level: 11.3%; velocity of growth: 10.7%; promoting up: 12.0%; promoting out: 10.4%; retention: 9.0%; and homegrown leadership: 9.7%.